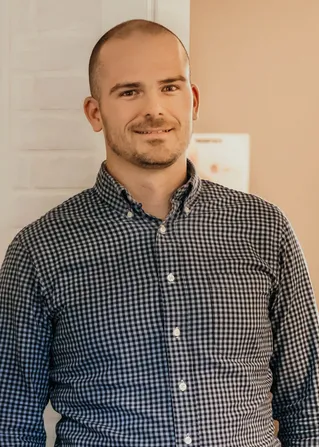 Dr. Travis Romney
I was first introduced to chiropractic after suffering a 3rd degree shoulder sprain during a Kentwood rugby game. A chiropractor was able to align my neck, back and shoulder joints to help me heal in time to play at the National High School Rugby Tournament.
This injury and the treatment was unforgettable and stuck with me through my earlier years. As I contemplated on my future, I realized I wanted to have a career where I could help people the same way my chiropractor had helped me. I enjoyed exercise, fitness, sports, and making healthy eating decisions. Going to chiropractic school made sense. While at Boise State University I switched my focus from business to science and after completing my undergrad degree I applied to the University of Western States in Portland, Oregon. This is where I completed my Doctor of Chiropractic (DC) degree.
In chiropractic school I absolutely loved adjusting people. I practiced so much that I completed my clinic credits early and was able to do a clinical internship in Oregon for a clinic that focused in treating car accident patients. After the internship, off I went to study and treat under a respected chiropractor in Spokane WA. What an awesome experience to spend 2 years at that clinic where I could treat and learn from an expert in extremity chiropractic. It was during that time I completed a 7 month long post-graduate course for diagnosing, treating, and rehabbing extremity conditions and injuries. This course further developed my ability to treat my patients from head to toe, literally. My passion for working on hips, knees, and ankles helped me as the team chiropractor for the professional indoor soccer team, the Tacoma Stars.
In 2010, I moved back to my hometown to open up Romney Chiropractic with my chiropractor wife, Dr. Alisha Romney. We were treating a lot of car accident injuries so in 2016 I completed a special postgraduate training in the field of Cervical Acceleration / Deceleration (whiplash) injuries. The 48 hours of class were so helpful in the management of car accident injuries that I attended the course again in 2018. Currently our clinic treats all kinds of aches, pains, and injuries. However, the most common conditions we work on are from old and new car accident injuries.
Dr. Travis met his wife, Dr. Alisha in the first quarter of chiropractic school. Dr. Travis enjoys playing basketball and flag football. He also loves to camp, hike, fish, and hang out with his awesome family!
Education:
Pre-Chiropractic Studies, Bachelors of Business Admin. - Boise State University
Doctor of Chiropractic - University of Western States
Licensure:
Washington State Chiropractic License
Certification:
National Board Certification
Certified Chiropractic Extremity Practitioner (CCEP) 2012
Kinesiology Tape
Whiplash Injury Biomechanics & Traumatology 2015
Certificate of Completion from the Spine Research Institute of San DiegoWhiplash Injury Biomechanics and Traumatology 2016 and 2018
Memberships & Associations:
Washington State Chiropractic Association
Kent 4 Health Board Member 2013 – 2015
Team Chiropractor of Tacoma Stars 2014-2015